After a long time the Vets had once again a match against a visiting team:
HC Bloemendaal – one of the most successful Clubs in Europe, with 1300 members and 13 Vets teams!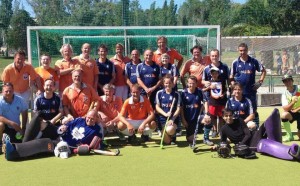 Fortunately the Dutch Vets were all over 50. Herman started the scoring with a light shot through the GK`s legs "Cueca". Peter and Andrew increased the score to be followed by Adérito with a dragflick from a PC just before halftime.
Due to the blue sky and the warm temperature the Casuals managed to score 2 more goals through Cat and Jerry. Unfortunately Bloemendaal didn't manage to score at least the consolation goal.
So, final result 6-0, but more important was that the Vets had a very friendly, casual but still sportive game – without any arguing or foul play.
– Kai Wenzel