A fortnight ago the Casuals' Dutch team beat the British 3-1 to reclaim the Kuiper Cup, and the Lusitanos team beat the Caravelas 7-2 for the Camões Trophy.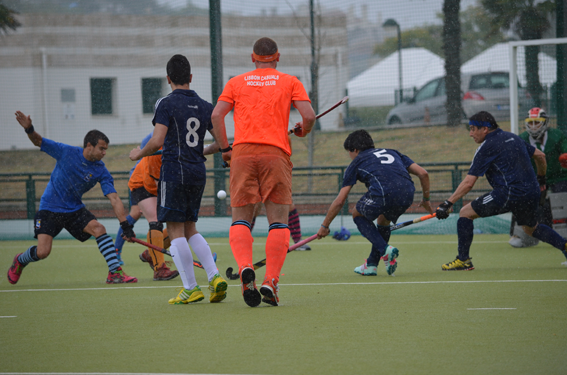 Today the respective winners played each other for the Pringsheim Cup and it was the Dutch who started the better, when Tommy Hilt opened the scoring after 10 minutes with a strong strike from the top of the circle. The Portuguese came close to an equaliser 2 mins later, but they went 0-2 behind when Hans Kodde's shot hit the post and Alexa Kodde reacted quickest to put in the rebound. Miguel Ralha kept the Portuguese in the game when he pulled back a goal with a low drag-flick at their 2nd penalty corner.
5 minutes into the second half Miguel's short corner hit a Dutch defender on the line and he converted the penalty stroke to make the score 2-2. 10 mins later, Chris' excellent long ball found Herman Green isolated in the Portuguese circle and he calmly rolled the ball past the keeper for 3-2. With the Dutch starting to tire, the Portuguese took a 4-3 lead from 2 excellent reverse stick shots: Miguel once again wriggling at the top of the circle before driving a low shot, and Fred Santos converting from a more acute angle on the left. With 3 minutes left, Linda Teles came agonisingly close to touching in a Dutch cross from the right, but shortly after made it 4-4 from close in.
This took the game into penalties: with only one Dutch miss, the Portuguese converted all theirs to take the Cup. This was a really exciting game played in excellent spirit: despite Joe Kodde's amazing work rate for the Dutch, Miguel's previous experience against Dutch players proved the vital ingredient to the Portuguese success.
Tony Pringsheim