The ladies won their place in the Portuguese Cup final this weekend, after coming from 0-1 down after the first leg of their semi-final.
They started under a lot of pressure and for the first 7/8 minutes they were lost with a lot of missed passes, poor ball control… after this they found their way under the guidance of their captain Angela Lima and the ladies' star Inês Campos and never again lost control of the game. Despite being in full control of the game, the 1st goal only appeared from the 5th short-corner by Carolina Oliveira.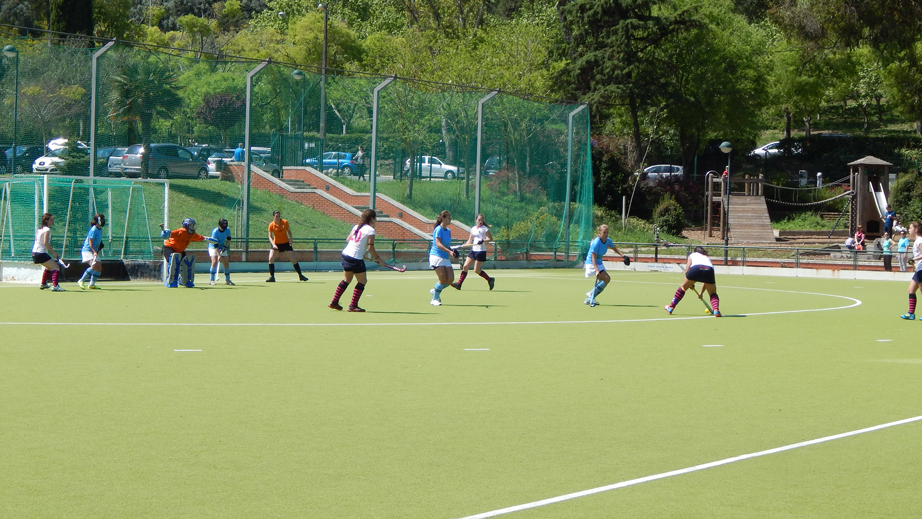 After the break, Belenenses desperately needed a goal to get through to the final and tried to push up, but this only worked for LCHC because we finally found the spaces we needed. The best was still to come, the goal of the day was scored by our speedy warrior Georgina Scheder-Bieschin with a fantastic tip in, slotting the ball in the top left angle after a strong pass from Raquel Freitas: the explosion of happiness on the pitch was amazing, we were ahead in the qualifier for the first time.
To close out this amazing game our star recovered the ball immediately in the Belenenses defence and like an arrow aimed at the goal, she ran straight to the top of the circle leaving 2 Belenenses players behind, to make a brilliant full rotation and shoot hard: the goalie was about to kick the ball out when Joana Penetra with a super intelligent move, tipped in the ball from Inês, making it impossible to defend. Belenenses now had to score 2 goals just to tie the qualifier and 3 to pass… The ladies wouldn't allow any goal in and sealed their 1st class ticket to the 1st LCHC Cup Final.
João Miguel Freitas